Delicious Meals That Prevent A-Fib
Plant Based and Mediterranean Diets Can Decrease Obesity and Prevent A-Fib
It is recommended that people who suffer from A-Fib consume foods low in saturated fat, trans fat, sodium and watch their cholesterol. The Best Diet is the Mediterranean diet for anyone with or without illness. I'm sharing recipes and Foods That Help A-Fib Prevention from my new cook book, I'm excited! Plant based diets high in fruit and vegetables can decrease obesity and hypertension. This dietary measure could lower your risk for developing A-Fib.
Today I'm going to share Delicious Meals That Prevent A-Fib and give you tips. If you don't know what A-Fib is, I'll quickly give you a run down. It's a type of arrhythmia that affects the upper chambers of the heart. The electrical impulses that control these chambers fire chaotically which leads to an irregular heartbeat.
A-Fib diet foods
Mediterranean Diet May Lower Cholesterol
Platelets are blood cells that help the body form clots to stop bleeding. A study in 2015 found that the Mediterranean diet can positively affect platelet function for people who have A-Fib. That study was done by PubMed Central, a highly respected organization. The Best Diet is the Mediterranean diet and may lower cholesterol levels as a high cholesterol level is a risk for stroke. The diet may also reduce your chances of developing the A-Fib condition.
Foods You Should Eat when you're on the Mediterranean diet for A-Fib.
Frequently eat vegetables, whole grains, olive oil, fruits and legumes.

Less frequently eat fish, turkey, nuts, seeds, eggs, dairy.

Rarely eat sugars, highly processed foods, fatty processed meats and refined carbohydrates.
Incorporating these foods into your meals, you'd have everything you need
Each meal can contain good portions
Foods that help Atrial Fibrillation
You need a portion of vegetables, a source of protein, a complex carbohydrate, and unsaturated fat. In addition to olive oil, flaxseed oil, or hemp seed oil. If a person is a vegetarian there is always the plant-based foods from non-animal sources.
The American Heart Association has some healthy ideas and recipes for, of course your heart that I want to share with you. I feel like we need more of a broader vision when it's time to eat, above just didn't seem like it gave too many options. I like options so here we go with some more ingredients.
We can add Beans to that, beef, Pork, chicken, seafood, pasta and rice. Also, there are Smoothies to be had, just stuff all of your needed veggies and favorite fruits in there with either yogurt or coconut milk add ice and there's breakfast or lunch.
I was making a lot of banana bread a few months back, the bananas were going bad so finally I started freezing them. Now when we want a smoothie, we have all of our favorite frozen fruits, and it's real convenient.
Delicious Meals That Prevent A-Fib
I'm looking at some really yummy food on the internet, so I'm going to pass these recipes onto you.
Jerk Pork Sandwiches with Mango Sauce
1 large mango-1 tablespoon honey or agave nectar- 2 Tablespoon red onion finely chopped- juice of lime- 1 Tablespoon chopped fresh parsley OR 1 teaspoon dried parsley
1 small white onion (thinly sliced)
1 tsp. Garlic powder
1 tsp. Thyme
1/2 tsp. Allspice
1/2 tsp. Cinnamon
1/2 tsp. Ground ginger
1/4 tsp. Cloves
1 tsp. red pepper flakes (use 1/2 if you don't like spicy foods)
1.25 lb. pork loin or roast (all visible fat discarded)
2 cup fat-free, low-sodium beef stock
Directions
For the mango sauce:
Use whole-wheat sandwich buns, corn tortillas (made without any type of hydrogenated fat or tropical oils, such as palm or coconut oil), or whole wheat pitas to make sandwiches or tacos – add pork and top with mango sauce.
Dress to taste with sliced lettuce, cabbage, tomato, etc.
For the pork:
Combine garlic powder, thyme, allspice, cinnamon, ginger, cloves and red pepper flakes in a bowl and mix well. Rub spice mixture over pork.
Pour beef stock in slow cooker, gently add pork and white onions.
Cover and cook on low for 8-10 hours.
Nutrition Facts
Calories-282 per serving, Protein- 24g per serving- Fiber- 4g per serving- cost per serving $2.09
Slow Cooker Thai Chicken Soup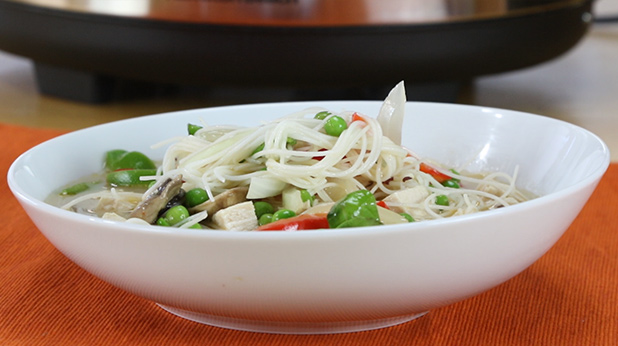 Slow Cooker Thai Chicken Soup
Using pre-cut vegetables makes the prep time go faster for the recipe. Put the ingredients in the slow cooker then set it and forget it until dinnertime.
Ingredients
2 pounds boneless, skinless chicken breasts, all visible fat discarded (aim for 2 1-pound chicken breasts)
1 pound button mushrooms, sliced
14.4 ounces frozen onion-and-pepper stir-fry mix
4 cups fat-free, low-sodium chicken broth
1/2 13.5-ounce can lite coconut milk
10 ounces frozen green peas
4 ounces dried medium Asian rice stick noodles, broken in half OR
4 ounces vermicelli brown rice noodles, broken in half
1/2 cup fresh basil leaves, chopped OR
1/2 cup fresh cilantro leaves, chopped
2 tablespoons fresh lime juice
1/4 teaspoon crushed red pepper flakes
1/4 teaspoon salt
1/4 teaspoon pepper (freshly ground preferred)
Asian hot sauce, such as Sriracha, to taste (optional)
Directions
Put the chicken in a 5- to 7-quart slow cooker. Spread the mushrooms and stir-fry mix over the chicken. Pour the broth and coconut milk over all. Cook, covered, on high heat for 4 hours or on low heat for 8 hours, or until the chicken is tender and no longer pink in the center.
Using tongs, transfer the chicken to a cutting board. Quickly stir in the peas, noodles (make sure the noodles are mostly submerged in the liquid), basil, lime juice, red pepper flakes, salt, and pepper. Re-cover the slow cooker. If using the low setting, change it to high. Cook, covered, for 20 minutes, or until the noodles have softened.
Meanwhile, carefully cut the chicken into bite-size pieces. When the soup has finished cooking, stir in the chicken. Ladle the soup into bowls. Serve with the hot sauce.
Quick Tips
Cooking Tip: When using a slow cooker, make sure the ingredient that needs to be cooked the longest, such as meat, is placed on the bottom, which is closest to the heat source.
Nutrition Facts
Calories
343 Per Serving
Protein
40g Per Serving
Fiber
4g Per Serving
Cost Per Serving
$1.15
Looks so delicious!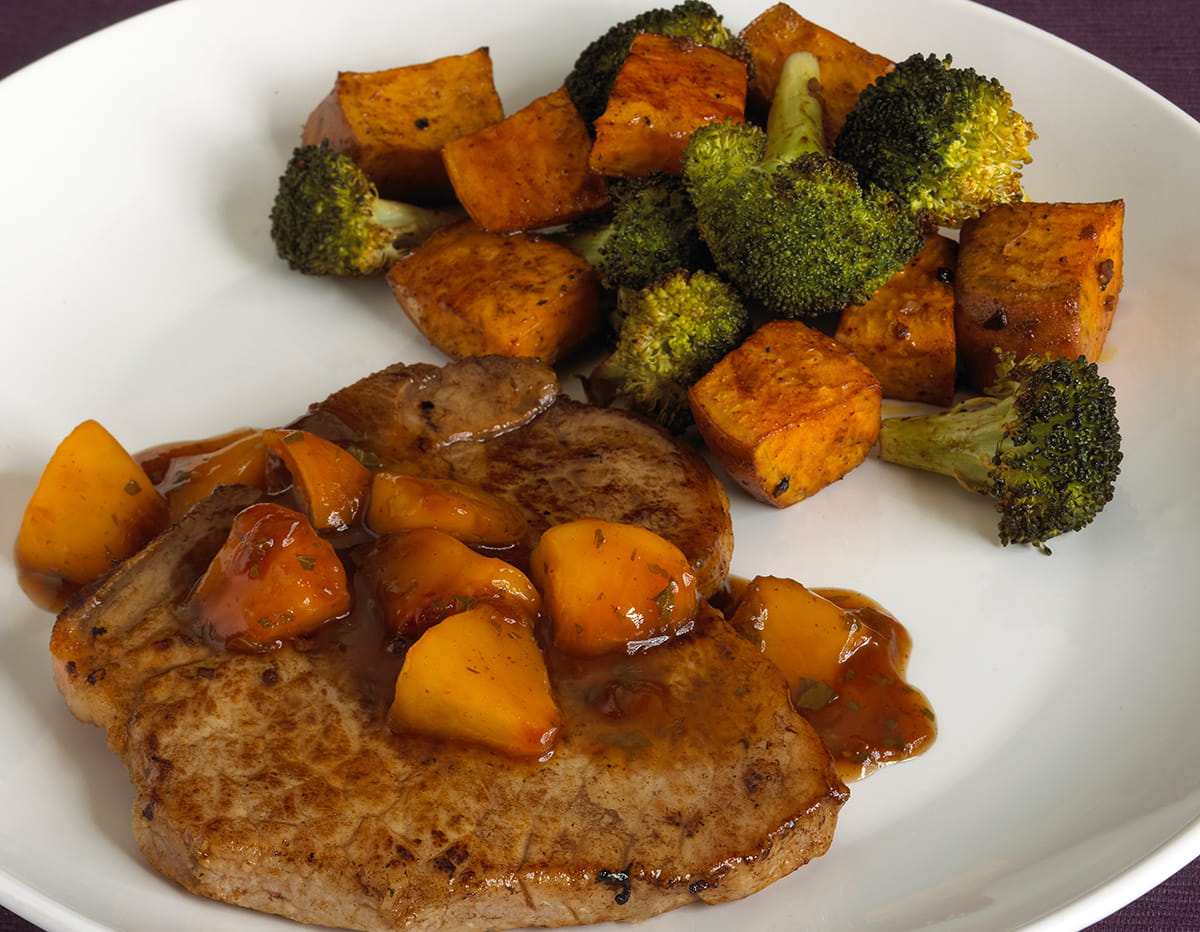 Ingredients
Servings 4
1/4 cup balsamic vinegar
1 tsp. Balsamic vinegar
2 clove fresh garlic (minced)OR
2 tsp. Jarred, minced garlic
1 Tbsp. Extra virgin olive oil
4 thinly sliced top loin pork chops (4 oz. each)
1 head broccoli (cut into bite-size pieces)OR
2 cups broccoli florets
2 small sweet potatoes ( or 2 cups,)
1/4 tsp. Chili powder
1 tsp. Black pepper (divided use)
1 cup frozen, unsweetened peaches (thawed, chopped)
1/2 cup sugar-free peach preserves
? tsp. Cayenne pepper
1 Tbsp. Fresh thyme leaves OR
1 tsp. Dried thyme
non-stick Cooking spray
Directions
Preheat oven to 350° F.
In a medium mixing bowl, whisk together ¼ cup balsamic vinegar, garlic and olive oil. Reserve half of this mixture for vegetables. To half of the vinegar mixture, add pork chops. Cover and chill for 15-30 minutes.
In a large mixing bowl, add vegetables, chili powder and ½ teaspoon. Pepper and vinegar mixture and toss thoroughly to coat. Spread vegetables in one layer on a baking sheet coated with cooking spray. Roast for 35-40 minutes until potato is soft and broccoli begins to turn slightly crispy.
In a small skillet over medium-low heat, stir together 1 tablespoon of balsamic vinegar, peaches, peach preserves, cayenne pepper and thyme. Heat, stirring frequently, until sauce begins to simmer.
Remove pork chops from marinade and discard remaining liquid. Season with remaining pepper. Heat a large skillet over medium heat. Coat with cooking spray and add pork chops. Cook 2-3 minutes in each side, until cooked through.
Serve with 1 cup of vegetables and ¼ sauce drizzled over each pork chop.
Nutrition Facts
Calories346 Per Serving- Protein28g Per Serving- Fiber4g Per Serving- Cost Per Serving$3.61
Delicious Looking! Good Food Helping A-Fib, I love it!
This sound like a fantastic A-Fib Diet Plan!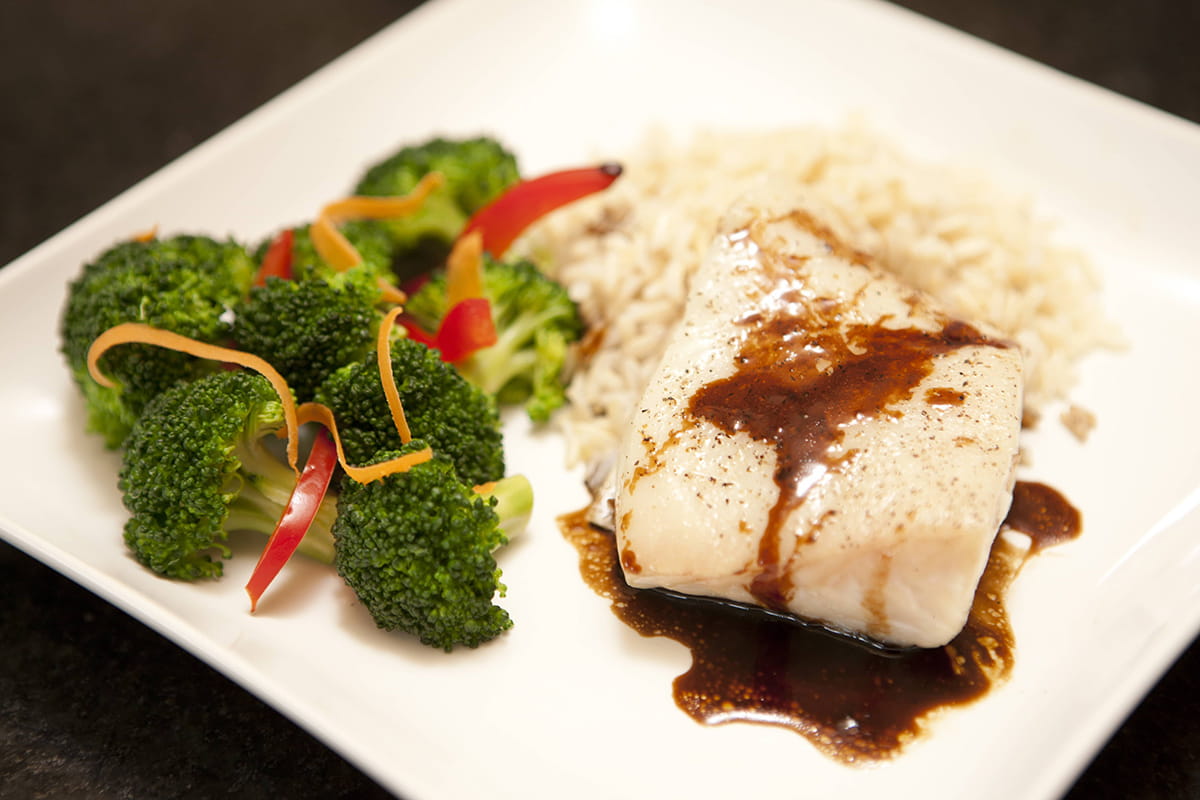 Allspice-Rubbed Pork Tenderloin with Cinnamon-Sauteed Apples and Cilantro Rice
Ingredients
4 mild white fish fillets (about 4 ounces each)
Pepper to taste (freshly ground preferred)
3/4 cup balsamic vinegar
1 tablespoon extra-virgin olive oil
1 tablespoon fresh lemon juice
Preheat the oven to 450˚F.
Put the fish on a 13 x 9 x 2-inch baking dish. Sprinkle the pepper over the fish. Bake for 10 to 12 minutes, or until the fish flakes easily when tested with a fork. Meanwhile, in a small microwaveable bowl, whisk together the vinegar, oil, and lemon juice. Microwave, covered, on 50 percent power (medium) for 2 minutes, stirring once halfway through. Drizzle the glaze over the fish.
Nutrition Facts
Calories
165 Per Serving
Protein
20g Per Serving
Fiber
0g Per Serving
Cost Per Serving
$2.42
That's all for today, I've decided to make this website all about healthy eating for A-Fib sufferers and anyone that needs a light diet. This has sure been a good start. I hope you try these recipes as will I. My other websites are mostly about A-Fib and how to deal with it, exercise and staying healthy.
If you want to read some more on Atrial Fibrillation, go to www.my-heart-health.com and if you'd like to check my shop out over at www.shers-shop-site.com for up to date informational articles on medical procedures for A-Fib, you are very welcome. Thanks for stopping by.
Wishing you all the Best,